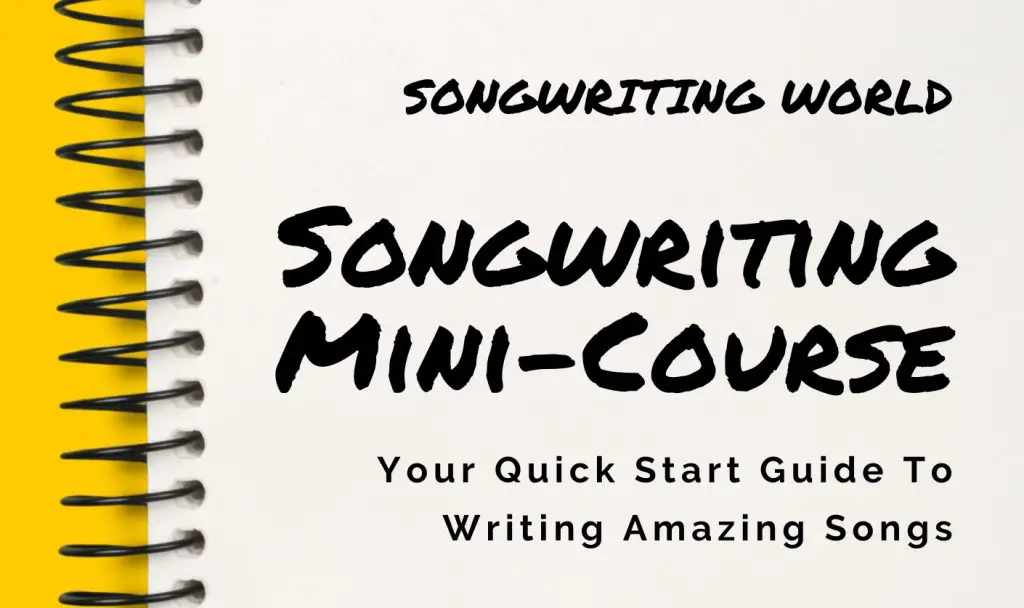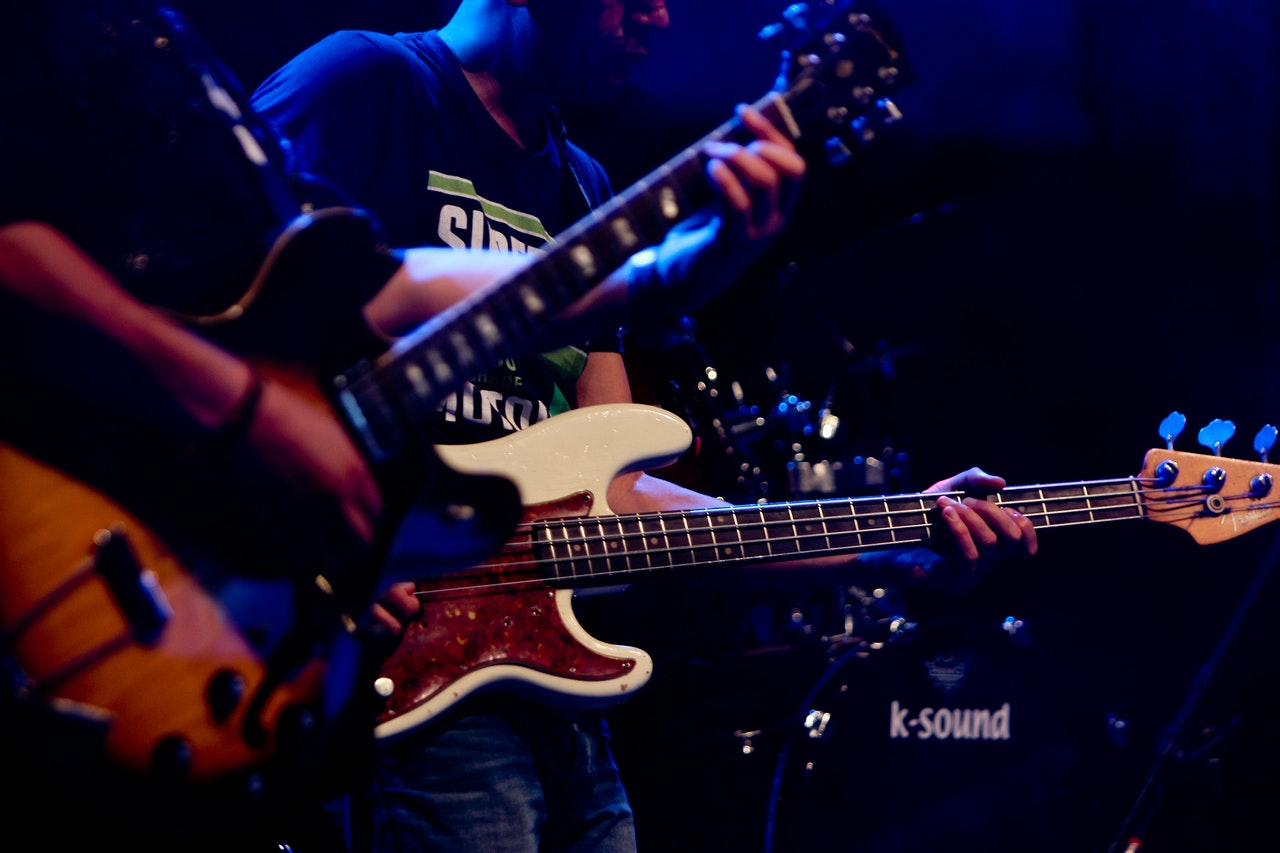 Lyrics are what make songs come alive. They can tell a story, paint a picture with words, and move people in ways that only music can. But how do songwriters come up with lyrics? Is it all just magic or is there some kind of method to the madness?
The first part of this post will discuss the methods that songwriters employ to come up with unique song ideas. The second section is a big list of ideas you can use to get inspired. The next time you're seeking for a unique perspective or approach to lyrics creation, use this huge list as a source of ideas.
Songwriting Lyric Basics
Decide what you want to say
The first step in coming up with lyrics is to decide what you want to say. This can be a challenging task, but it's important to have a clear idea of the message you want to communicate.
One of the main reasons songwriters get writer's block is because they haven't done enough research to know what they want to say. Think about the ideas that you want to express. This will give you all the material you need to write the lyrics to your song.
Some songwriters start with a title and work backward, while others let the music inspire their lyrics. No matter how you approach it, make sure that your lyrics reflect the heart of your song.
Once you have a general idea of what you want to say, it's time to start refining your concept and making it more specific.
What are the main themes or ideas in your song? What emotions do you want to evoke? When you have a solid foundation, you can start filling in the details and writing actual lyrics.
Decide how you want the listener to feel
When it comes to song lyrics, you want to evoke a certain feeling in the listener. This can be done in a number of ways, but it's important to decide what you want the listener to feel while listening to your song.
Are you trying to make them happy, sad, angry, or excited? Once you have a general idea of the feeling you want to create, you can start refining it and making it more specific.
What are the main emotions in your song? What words or images can you use to communicate those emotions?
Keep in mind that not all songs need to make the listener feel happy. Sad songs can be just as powerful and moving. As long as your lyrics reflect the heart of your song, they will be fine.
Think about how your lyrics will contrast with the music
Before writing lyrics for your song, it's important to ask yourself whether or not you need them at all. Ask yourself what you really want to say. Sometimes the music alone can communicate something that words can't describe.
Other times there are specific ideas that can't be communicated through singing or music alone. This is why music and lyrics make such a powerful combination.
Keep in mind that you can communicate different messages with the music and with lyrics, to create a completely unique effect. Emotions are complicated and don't always fit perfectly into one category.
For example, the music might be happy-sounding, while the lyrics can describe something heartbreaking. This combination could create something bittersweet.
Songwriting Ideas to Inspire Your Lyrics
Writing lyrics is an art form, not a science. So there are no rules about what makes good lyrics and bad ones. However, songwriters often use a central idea or concept to guide their entire songwriting process.
This main concept is usually the song's hook. The chorus often sums up the main idea, wrapping it up with the feelings and thoughts of the verses.
In each section, I've included some examples of songs that use this basic idea. It's not always as straightforward as it seems… After reading this you might find yourself inspired in completely unexpected and new directions!
Comparison between seemingly unrelated things
An unusual comparison is a classic way to get the listeners attention. If a simile or metaphor features prominently, then you might be using comparison.
"Watermelon Sugar" by Harry Styles
This lyric compares their lover's attention to watermelon sugar. How does that work? Listen to this catchy song to find out.
"Love Is A Battlefield" by Pat Benatar
How is love like a battlefield? Aren't you being a little dramatic? Isn't love dramatic?
"Blister In The Sun" by Violent Femmes
What does it mean to "go on like a blister in the sun?" I guess we have to listen to the rest of the song to figure out what it means.
Write around a concept – Let a theme or concept inspire you
Sometimes a great song can come from exploring a strange concept.
"Surfin' USA" by The Beach Boys
This song is all about what it would be like if all of the USA had an ocean.
"Amish Paradise (Parody of "Gangsta's Paradise" by Coolio)" by Weird Al Yankovic
This song is all about living the Amish lifestyle, in an oddly gangsta' braggadocious way. The odd juxtaposition is hilarious.
"Modern Love" by David Bowie
The songwriter's thoughts and conflicted feelings about modern love. The verses describe a cycle of lack of faith in modern love which "gets me to the church on time." It's a brilliant capsule of 1980s love life or lack of it.
"Pizza Day" by Aquabats
This song is all about how great 'pizza day' was during grade school and how much he misses those days.
"One of Us" by Joan Osborne
This song explores the idea if God was a regular person living on Earth.
"If I Had A Tail" by Queens of the Stone Age
This song describes what it would mean if the songwriter had a tail. If they were an evil devil, that is…
Write from the perspective of someone different or unusual
Songwriters often use unique perspectives to make their lyrics more interesting. A common tale told from a different perspective is a great way to explore new ideas with your lyrics.
You can also select a perspective that is very different from your own, to try something new and exciting.
For example, if you're writing about love relationships, think of how it would be seen through the eyes of someone who has never been in one before. This could help you see things differently yourself!
"Rock Me Amadeus" by Falco
This 80s electronic-rap hit is the life story of Wolfgang Amadeus Mozart.
"Every Breath You Take" by The Police
An obsessive lover is keeping a very close eye on the object of his desire.
"Space Oddity" by David Bowie
How often do you hear a song about an astronaut?
"Criminal" by Fiona Apple
The singer feels like a criminal because of how she's treated her lover. – Juicy, tell me more.
"Smooth Criminal" by Michael Jackson
Sometimes it's fun to be the bad guy, especially when it's with Michael Jackson-style.
Tell a story with your lyrics
Songs that tell a story are some of the oldest songs known to mankind. They can be incredibly powerful, painting a picture that the listener can see in their mind.
Some songwriters prefer to write stories as songs, while others use them to enhance the lyrics of their existing songs.
If you're feeling stuck, try telling a story about your life (or someone else's life) and see if it inspires some new lyrics for you.
Here are some examples of songs that tell a story:
"Brandy (You're a Fine Girl)" by Looking Glass
This is the story of the interesting gal named Brandy and her love life.
"Devil Went Down to Georgia" by The Charlie Daniels Band
I've been to bars where the crowd knows every word to this one.
"Escape (The Pina Colada Song)" by Rupert Holmes
The story of a cheating lover's 'escape.'
"Jeremy" by Pearl Jam
Who was this guy that he gets a song named after him?
Ask a question
Asking a question in a song is a great way to engage the listener. It can also be a powerful tool for exploring different emotions and ideas.
Some questions are general, while others are more specific. The question can be simple and direct, or something open to interpretation. You can ask anything you want – it's your song!
Here are some examples of songs asking a question:
"What Do You Mean" by Justin Bieber
"So What'cha Want" by Beastie Boys
"Do You Realize??" by Flaming Lips
This is an existential celebration of life on Earth.
"Who Will Save Your Soul" by Jewel
"Believe" by Cher
"What Is Love" by Haddaway (it would have been criminal not to include this one)
Give a command, give direction
Many songs are directing someone to do something. Some examples of how to give a command are to use words such as "please", "let's", "come here", and "go away".
You'll know your lyrics are giving a direction or command when the sentence begins with a verb.
Some examples of songs giving a command or direction:
"Lose Yourself to Dance" by Daft Punk (feat. Pharrell Williams)
It's simple – dance, baby!
"Walk This Way" by Aerosmith
"Walk" by Pantera
Just keep on walking…
"Give It Away" by Red Hot Chili Peppers
Celebrate or pay homage to something or someone
Patriotic songs, nationalistic songs, and fun party songs all follow this main idea. What can you celebrate or honor with a song? It doesn't have to be serious, it can be light-hearted. It doesn't have to be so direct, either. Some of the best songs are a bit vague and open to interpretation.
"Celebration" by Kool & The Gang
It's all in the title: Celebrate good times. It's also in the funky, disco groove. This is a great party song!
"This Land Is Your Land" by Woody Guthrie
This song celebrates the American countryside and the people it's for (according to the lyricist, you and me).
"Praise You" by Fatboy Slim
This song is a celebration of the songwriter's object of desire.
"American Pie" by Don McLean
This song celebrates American culture in a subtle way, talking about different events throughout history. Its vague lyrics have inspired a lot of debate among music fans.
State or describe an identity
"Liar" by Rollins Band
This guy is a liar and here's why.
"Rap God" by Eminem
What's a rap god, anyway? Listen and find out.
"The Joker" by Steve Miller Band
This feel good jam is all about a casual, modern day loverboy jester.
"Material Girl" by Madonna
She's all about the material possessions. Sounds like fun!
State an intention
Being driven, focused, and determined can be inspiring. In a song, this can reflect on the subject matter or lyrical content of your songs. These kinds of lyrics are often about following through with an action and achieving goals.
"I Will Always Love You" by Dolly Parton (famously covered by Whitney Houston)
Saying goodbye to good friends is always difficult, but it's something that we all have to do at some point. It's a time of mixed emotions – sadness, happiness, nostalgia, and hope. When we say goodbye to our friends, we hope that we'll see them again soon.
"I Will Survive" by Gloria Gaynor
This jilted lover is going to make it no matter what.

"I Won't Back Down" by Tom Petty
No matter what, this guy won't be beat. This song is about grit and determination.
"I Want To Break Free" by Queen
This song has gone on to be an anthem against oppression.
"Soak Up The Sun" by Sheryl Crow
This songwriter is determined to enjoy life and isn't going to sweat the small stuff.
Express your feelings about an emotion
Emotions are complicated and our feelings about them don't always make sense. These conflicting emotions have inspired some great songs.
It can be confusing and frustrating to have conflicting feelings. You might not understand why you're feeling the way you are, or you might not know how to deal with them. The good news is that you're not alone. Many people have experienced conflicting feelings and it has inspired some great music too.
"I Still Haven't Found What I'm Looking For" by U2
Despite their accomplishments, they're still seeking something that has yet to be found. This song has been described as a spiritual anthem because of its lyrics and themes about faith, spirituality, and religion.
"Wicked Game" by Wicked Game
Despite the magnetic attraction, this lover is resisting.
Describe a situation
"Perfect Day" by Lou Reed
The perfect day with someone special from someone who feels, maybe they don't really deserve it?
"Summertime Sadness" by Lana Del Rey
I thought summertime was supposed to be fun all the time? What's going on here?
"Sunny Afternoon" by The Kinks
It's a sunny afternoon. Everything must be going great, right?
Describe a specific time and place
"December, 1963 (Oh What A Night)" by Frankie Vallie & The Four Seasons
It must've been a great night if it gets an entire song dedicated to it.
"April 29, 1993 (Miami)" by Sublime
This is a rap-reggae interpretation of particular events and the songwriter's alleged involvement.
"Boys of Summer" by Don Henley
Remembering the good old days…
Curate ideas or create a compendium of ideas around a theme
You can also curate ideas or create a compendium of ideas around a theme. For example, if you're working on a song about love and relationships, take some time to think about what that means to you and the people you know. Think about pain and joy, innocence and experience, monogamous and non-monogamous relationships, etc.
Then take those ideas and compile them into a list of every idea you come up with. You can create a song out of the entire list of ideas or it can inspire something else. This will give you an idea of the different directions your song could go and help you narrow down the right direction for your lyrics.
Here are some songs that are a compendium or list of ideas:
"It's The End of the World As We Know It" by R.E.M.
Why is it the end of the world? Tell us R.E.M.!
"We Didn't Start the Fire" by Billy Joel
Which fire are you talking about, here?
"I've Been Everywhere" by Geoff Mack, famously covered by Johnny Cash
Really, everywhere? Tell us where you've been, mister.
"Orinoco Flow" by Enya
Ports lead to so many interesting places. Where will this song take you?
Embrace or reject an idea
"I Don't Want To Set The World On Fire" by The Ink Spots
He doesn't want to set the world on fire, he wants something else instead.
"That Don't Impress Me Much" by Shania Twain
What doesn't impress you? Why not? So many questions.
Describe a person, place, or thing
Writing a song about your lover is a great way to express your feelings about them in a creative way.
"My Cherie Amour" by Stevie Wonder
His 'dear love' is the center of his universe.
"Hotel California" by Eagles
This place has a dark, seductive allure… but there's something else going on here.
"Jack and Diane" by John Mellencamp
Two American kids, growing up in the heartland.
Inspire or encourage someone
"Through the Fire and Flames" by Dragonforce
This metal anthem will get you through any day.
"Stronger" by Kelly Clarkson
"Imagine" by John Lennon
Imagine what life would be like if…
Beg, plead, ask someone
A song can be a cry for help. It can also be asking someone to not do something. It can just be good advice…
"Waterfalls" by TLC
Don't go chasing things that aren't for you…
"Simple Man" by Lynyrd Skynyrd
A mother's advice to her son.
"Help" by The Beatles
Make a confession
"Creep" by TLC
Unfaithful lovers lead to some interesting situations.
"I Shot the Sheriff" by The Wailers
That's a damning admission – what kind of confession is this?
"I'm Like A Bird" by Nelly Furtado
This singer just can't commit. It's not you, it's me.
This was the Ultimate List of Songwriting Lyric Ideas… Feeling Inspired?
The one thing that stands out about songwriters is their ability to create lyrics. That's because they have a way of tapping into the human psyche and bringing emotions to life with words that are so addictive to sing along to.
Hopefully you found value in these lyric-writing ideas. Now it's time to get creative and start putting your own spin on things. Who knows, you might just wind up with the next big hit song!